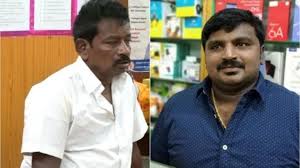 Tuticorin: In shocking incident of police brutality in Tamil Nadu, two men were sexually tortured by the police of Sathankulam police station in Tuticorin.
The two men were relatives, Jayaraj aged 59 was the father and Bennics aged 31 was the son. Both were arrested by Sathankulam police over an alleged altercation with the police for keeping their shop open beyond the COVID-19 curfew time. Bennics died on June 22, 2020 and Jayaraj died on June 23, 2020. 
Revealing disturbing details of the torture, a family member told GoaChronicle.com that both Jayaraj and Bennics were sexually tortured by the police. Reportedly lathis were used to sodomise them when in police custody. There was nothing left in the front and rear of their bodies. They were severely tortured and killed.
This information was further confirmed by a friend of the deceased who was also an eye-witness who stated that Jayaraj and Bennics were bleeding from their rectums and had to change their lungis several times. Even when they were transported to the government hospital by friends on police insistence, they were bleeding from the rectum and could not sit in the vehicle.
The family and friends are alleging that the doctors at the government hospital are working with the police to cover-up the sexual torture of Jayaraj and Bennics. The government hospital reportedly even gave a fit certificate of Jayaraj and Bennics even though they were brutally sodomised with lathis and were suffering from high-blood pressure due to the torture.
Taking note of the case, the Madras High Court is reported to have sought details with regard to the custodial deaths of and his son.
The High Court is also said to have directed the Kovilpatti Judicial Magistrate to seize the case diary and CCTV footage.
The High Court further directed the Kovilpatti Judicial Magistrate to work from the Santhankulam Camp Office on a temporary basis, since the native place of the victims