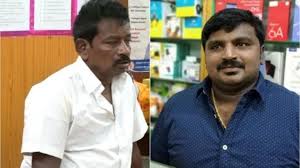 Chennai: If a Tamil Nadu cop has the temerity to tell a Judicial Magistrate in the state to 'F##k Off' over questions related to details into the horrific sexual torture of Jayaraj and Bennix that led to their death in the Tuticorin police custody then it is clearly evident that the perpetrators of this police brutality consider themselves to be above the law of the land.
After the hearing in Suo Motu Public Interest Litigation was over today, the Registrar (Judicial), Madurai Bench of Madras High Court, received a report dated 29.06.2020 by e-mail from the learned Judicial Magistrate No.1, Kovilpatti. 
A reading of it clearly shows that the District Police Administration are doing everything within their command to prevent the learned Magistrate from proceeding with the enquiry. 
The report shows that D.Kumar, Additional Superintendent of Police, Tuticorin and C.Prathapan, Deputy Superintendent of Police, Tuticorin made themselves available in the Sathankulam Police Station and in their very presence, the other policemen were taking videos of the Magisterial proceedings. 
The policemen were not giving the records called for by the learned Magistrate and it is seen that one of them, viz., Maharajan, Police Constable, Sathankulam Police Station had made a very disparaging remark in Tamil "Unnala Onnum Pudunga Mudiyathuda' which in English literally means to 'F##k Off' to the learned Magistrate. 
Even after 72-hours the Tamil Nadu police has not filed an FIR against its police officers who were behind the sexual torture and custodial death of Jayaraj and Bennix.