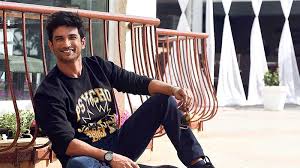 You never know what is going to through the mind of a person when a shocking decision is taken to commit suicide.
You never know at what point in those last troubling thoughts in their mind a person reaches a complete breakdown and decides to end life.
Suicide is a hard decision to take. It is not an easy decision. It is an extremely difficult decision to make. You would have to have reached a point in your mind when life itself does not matter and your decision to take your life comes as an unnatural end but an accepted end.  
Suicide is a decision when your human spirit is crushed that a decision to inflict pain on one's body is immaterial because you have become lifeless in your soul.
I did not know Sushant Singh Rajput personally. I knew that he was an actor. I have not been a fan of his acting. I thought he was a good actor and appreciated some aspects of his craft.
The fact that he was a Bollywood actor has no bearing to my views or sadness on his death. The fact that he is a human and that a human has taken his life is what is saddening to me.
Sometimes I hope celebrities do not walk the path of hopelessness and commit suicide because they are icons to young minds. But then they are also humans and can also fall prey to depression and loss of self-belief.
Suicide is never an answer to life's troubles. It is merely an escape to me. But I am no one to judge the decision of a person committing suicide. I only wish someone could have been there at that moment to be the angel of hope.
India has the highest suicide rate in South East Asia region according to the World Health Organisation.
The WHO report released in 2019 with accumulated and analysed from 2010 to 2016 states that 16.5 people in every 100,000 commits suicide in India.
India also had the third-highest female suicide rate (14.7) in the world after Lesotho (24.4) and Republic of Korea (15.4).
Every hour one student commits suicide in India, with about 28 such suicides reported every day, according to data compiled by the National Crime Records Bureau (NCRB). The NCRB data shows that 10,159 students died by suicide in 2018, an increase from 9,905 in 2017, and 9,478 in 2016.
I do not know what drives a person to suicide. It is certainly not lack of education, wealth, sustenance or even fame because some celebrities pose this and much more yet they kill themselves. 
A study in India by NCRB indicated 80 per cent of the people who had committed suicide in India were literate people. Cities like Mumbai, Delhi, Chennai and Bengaluru witnessed most cases of suicide than most cities in India. 
Suicide is an act that is planned and executed in one's mind. It is a mind that is depressed. It is a mind that is confused. It is a mind that has lost faith in itself and in others.
There could be several triggers to commit suicide but if you analyse the root cause it will be a mind that has lost self-belief. A mind that needs to be treated. A mind that is looking for hope.
We do not know who will commit suicide. It is a silent assassin. The actual act is a mere an endgame but the real poisoning starts in the mind, in the behaviour and in the depression.
Let us spread hope, love and care to people all around us.
People do not talk about their mental fears or mental issues. We would never know if our neighbour living next door is depressed and suicidal. But if can spread a smile and a good word, maybe we could just assist in rebooting hope to live in that depressed mind. It could be that breath of fresh air that the lifeless soul needs.
We must save lives. We cannot allow people to end life without a fight.
It is not easy to live life but if you go through the trials in life, you will look back at life and feel proud that you journeyed in this life till the end and that you did leave life mid-way like getting up from your seat and leaving a movie theatre without watching the movie completely.
I hope celebrities like Heath Ledger many years ago, who after portraying the iconic Joker in The Dark Knight committed suicide and now Sushant Singh Rajput; looked at life in the words of Shah Rukh Khan in the movie 'Om Shanti Om' – 'Lekin agar End mein sab kuch theek na ho to woh the end nahi hain dosto… Picture abhi baaki hai mere dost!'
Live life. It is worth it.