The UNODC Global Report 2018 on trafficking in person indicates that the vast majority of the detected victims of trafficking for sexual exploitation are females, and 35 percent of the victims trafficked for forced labour are also females, both women, and girls.
The National Crime Records Bureau (Under the Ministry of Home Affairs) study 'Missing Women and Children in India' conducted over the period of 2016, 2017, and 2018 revealed shocking details that 5,86,024 missing women in India. It translates to over 550 women going missing every day in India.
The Supreme Court of India in 2019 instructed the government of India to identify the areas prone to child and women trafficking.
The reasons for missing include mental illness, miscommunication, misadventure, domestic violence, and being a victim of crime. Whereas the common cause of trafficking is forced marriage, child labour, domestic help, and sexual exploitation etc.
In a criminal appeal no. 135 of 2010 (Budhadev Karmakar Vs State of West Bengal and Others), Hon'ble Supreme Court of India vide its order dated 19th July 2011 constituted a Panel under Mr Pradeep Ghosh, Sr. Advocate, with Mr Jayant Bhushan, Sr. Counsel and Usha Multipurpose Cooperative Society, Durbar Mahila Samanwaya Committee and Roshni – through their President/Secretary as members of the Panel, to assist and advise the Hon'ble Supreme Court on the following aspects:
(i) Prevention of trafficking
(ii) Rehabilitation of sex workers who wish to leave sex work and (iii)Conditions conducive for sex workers to live with dignity
The Supreme Court had asked the Panel to study these three aspects and make suitable suggestions to the Hon'ble Court. The panel submitted its report to the SC and haD recommendations on all three Terms of Reference (ToR) mentioned above. The SC vide its order dated 24-04-2019 had asked the Union of India to file response on the report of the Panel.
MHA in its report submitted to the Supreme Court, the Panel had, inter-alia, recommended as follows:
'National Crime Records Bureau and its State Counterparts i.e. SCRB should be directed to analyse the data on missing persons (especially on women and children) so that areas prone to persons being trafficked can be identified. This data and analysis should be made public'.
As per the Crime in India research that formed the basis of the 'Missing Women and Children in India' study, a total of 1,74,021 women in the year 2016, 1,88,382 in 2017 and 2,23,621 in 2018 were registered as missing. A sum total of 5,86,024 registered cases of women missing in India.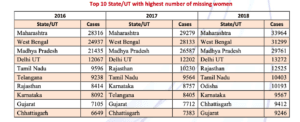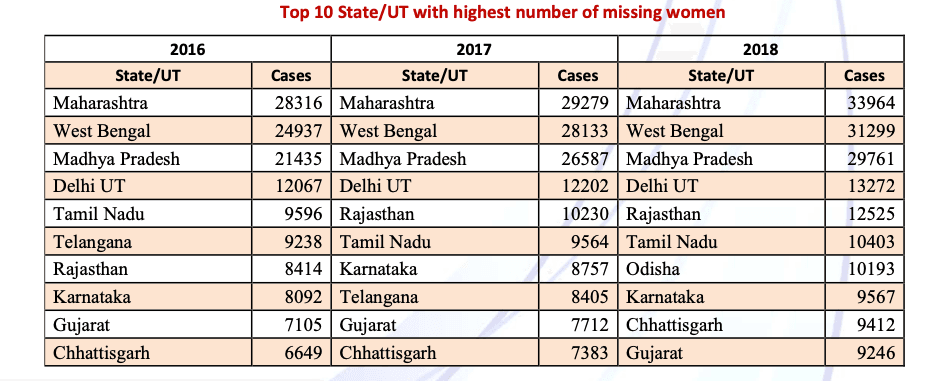 Maharashtra registered maximum number of missing women during the year 2016, 2017 and 2018 with a figure of 28,316, 29,279 and 33,964 missing women respectively. West Bengal remains in the second position throughout the years 2016, 2017, and 2018 with 24937, 28,133, and 31,299 missing women respectively. Madhya Pradesh was in the third position with 21435 in 2016, 26587 in 2017 and 29,761 in 2018.
In Maharashtra, Mumbai, Pune and Thane appeared to be most vulnerable. Mumbai recorded the highest number of missing women during 2017 and 2018 with 4,718 and 5,201 women missing respectively. Both the years, Pune was on second with 2,576 in 2017 and 2,504 in 2018. Thane recorded, 1798 in 2017 and 2352 in 2018.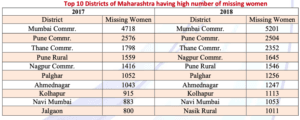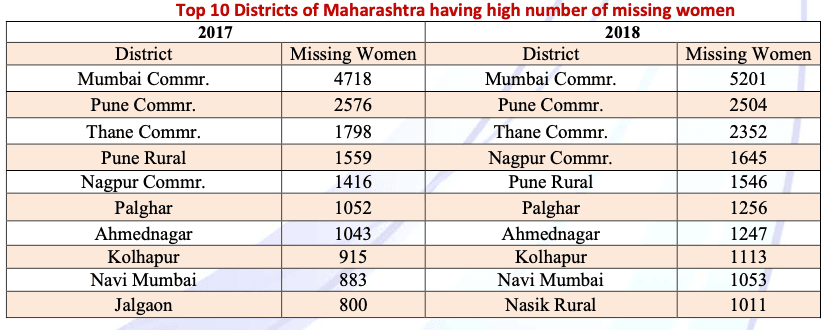 The 'Missing Women and Children in India' study states, "Each year State/UT police receive numerous reports of missing persons. The people may go missing for any reasons.
Some of them return soon after their disappearance without any harm having befallen them. However, some of them might have been met with a tragic end such as homicide, suicide or an accident. It is also possible that they might have been a victim of foul play such as trafficking.
However, it is difficult to ascertain whether someone's disappearance is intentional or unintentional.
The human trafficking may include male and female, adults as well as children. The human trafficking may take place within the country as well as a transnational crime. It includes labour and sexual exploitation of the victim. The literature review reveals that boys as exploited as camel jockeys and girls and women are trafficked as sexual exploitation. The literature review also shows that low level of education, low employment prospects and lack of opportunities are also the reasons for women and men to venture out in search of better living conditions."
The study indicates that human trafficking is one of the primary reason behind missing women in India. If every day in India 550 women are missing in India and many are ending up as human-trafficking victims, it is important for the MHA to look into the matter more concentratedly and work with the states to understand every missing woman report filed at a police station and what happened to the 5,86,024 women in India till 2018.
Yearly reports published by the National Crime Records Bureau on Crimes in India shows that crimes committed against women in India are increasing aggressively every year. In 2016, the number of crimes committed against women was 338,954. The number shot up to 359,849 in 2016 and 378,277 in 2018. Women are subjected to cruelty by husband and family, rape and murder, dowry deaths, domestic violence, and human trafficking.
Trafficked women are then forced into sex work, forced labour for cheap or no wages at all, they are forced into marriages, and other unmentioned reasons according to the report. These are the major crimes committed against women that are listed in the yearly reports by NCRB that could amount to the number of women that have gone missing in the country so far.
GoaChronicle Team has been asking the Cabinet Minister of Ministry of Women and Child Development, Smriti Irani and the chairperson of National Commission for Women, Rekha Sharma about the number of missing women that remain untraced till date through emails and social media platforms like Twitter. But we have not got a reply from them on the issue so far.